If you write children's books or are looking for a good book for a child (maybe early Christmas shopping?), here are the ones a panel of authors judging children's fiction for The Guardian (UK) selected as the best. Even if you're writing for adults, it could be useful to check these out to see how authors are getting the attention of younger readers.
Source: http://www.theguardian.com/childrens-books-site/2015/nov/19/david-almond-wins-guardian-childrens-fiction-prize 
"David Almond has won the Guardian children's fiction prize with a retelling of the myth of Orpheus and Eurydice set in the north east of England, A Song for Ella Grey.
Told in lyrical, dream-like prose, Almond revisits a story that he said "has pestered me ever since I began to write" - the legend of music-maker Orpheus descending to the underworld to bring his love back to life. Set in contemporary Tyneside, Almond's version features inseparable best friends and sixth-formers Claire and Ella. Through Claire's narration we learn how Orpheus entrances Ella and the terrible tragedy that unfolds as a result.
The book beat novels by Kate Saunders, Frances Hardinge and Sally Nicholls to win the only children's book award judged by authors - find out more about the brilliant books on the shortlist and the longlist!
Back to A Song for Ella Grey, and you don't need to just take the judges' word for it - here's what three of our award-winning Young Critics think: 
Megan Foley:
Almond's writing really is something to envy. It is truly magical; his descriptions alone transport you from your warm room to the blustery beaches of the North. The words seem to leap off the page and spark to life within you. As I read, I got so completely absorbed in the writing that I forgot where I was and what I was doing. I only thought of the story and what was going to happen.
Charlotte Walden:
The beautiful poetic language in this book is unmistakably written by David Almond. The power in the short, often repeated sentences sends a chill down your spine and wakens your imagination so that you are drawn in by every convincing word.
Sara El-Khamlichi:
I think that this book is not just a "book", but a literary masterpiece.

------
the four shortlisted authors in the Guardian children's fiction prize for 2015: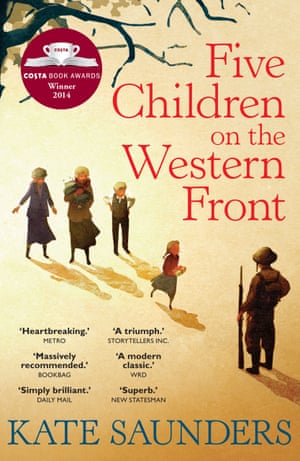 Five Children on the Western Front by Kate Saunders (Faber)
E Nesbitt's classic Five Children and It gains an outstanding sequel, with the ingenious conceit of transposing the cosy Victorian setting for the eve of the First World War, yielding devastating results. Enthralling, witty and often unbearably moving, an elegy to not only a lost generation but the first golden age of children's literature.
A Song for Ella Grey by David Almond (Hodder)
An intense, windswept re-working of Orpheus and Eurydice that reverberates with intensity and passion, as beautifully presented as it is written. The transformative potential of art and the imagination radiates from every page of this book, which is as short, intense and all consuming as the love story it describes.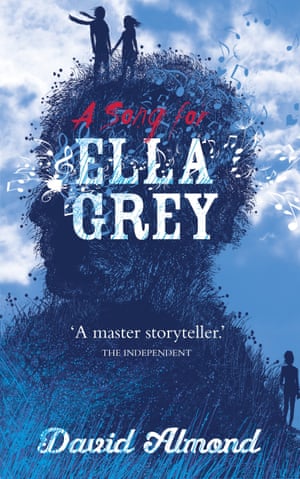 The Lie Tree by Frances Hardinge (Macmillan) 
A compelling fantasy spun from one mesmerising idea: what if telling lies gave you the power to discover other people's secrets? This gothic yarn of Victorian fossil hunters gone bad features an unforgettable young heroine, who fearlessly takes on monsters of the present and the past to build herself a better life.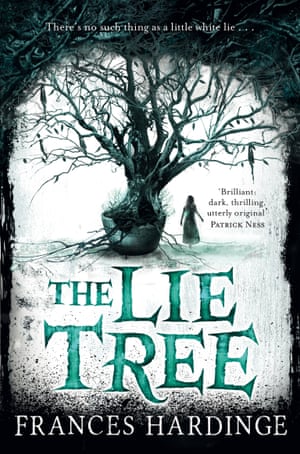 An Island of our Own by Sally Nicholls (Scholastic)
This is a joyful Treasure Island-style mystery for the Instagram generation. A loveable young pair don't face pirates as they seek their late auntie's buried hoard, but more contemporary devices - from crowdsourcing clues to metal detectors - winningly deployed in this funny and tender exploration of what makes a family."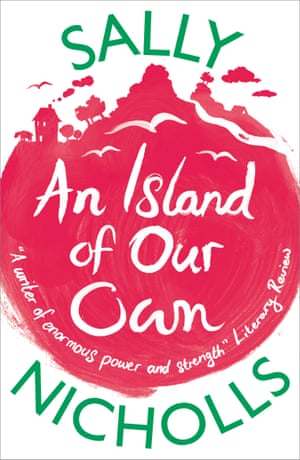 Link to the longlist: http://www.theguardian.com/childrens-books-site/gallery/2015/jul/10/the-guardian-childrens-fiction-award-2015-longlist